How we got here: a rapidly evolving technological climate
Science has only taken its current form due to new and powerful technology: the internet, artificial intelligence, open source software, cloud computing, blockchain, social media, and more.
The Internet
The rise of the internet has arguably affected the science and research industries the most of any field. Just as the printing press revolutionized science hundreds of years ago by allowing scientific ideas to be widely disseminated, the internet transformed science by taking away barriers to publishing and communication.
In 2000, digital versions of more than 11 million research articles were available. As of 2018 that number was 114 million, and over 4 million new articles were published in 2021 alone.
Open Access and Cloud Computing
Open source and open access have been major factors powering new scientific discoveries. While definitions of open source vary, it generally means that software, research, or technology has free and unfettered access, distribution, and use redistribution. Movements advocating for open access research and software have ramped up since the turn of the century.
Thanks to open source, many important internet technologies benefitting science emerged. The majority of HTTPS websites use OpenSSL for internet security and cryptography. PHP, a popular scripting language ideal for web development, is estimated to be used by 79% of all websites. Open source servers and databases like Apache Hadoop and MySQL emerged for large-scale data analysis and computation. These new ways to handle data and share discoveries have promoted science's increasing globalization, rapid dissemination of information, and sophisticated analyses.
Cloud computing technologies, a critical part of modern data science, also emerged. Cloud computing relies on technological developments like virtualization, which divides the hardware resources of a single computer into multiple virtual computers, and distributed computing, which uses multiple computers in a single network to solve more complex problems. Cloud computing provides on-demand delivery to applications, servers, and data storage.
These technologies have resulted in drastic shifts in scientific publishing, including the emergence of countless new online scientific journals and open access research and publishing. The free dissemination of ideas enabled by open source servers and databases even led to preprints, or non-peer reviewed versions of scientific articles, becoming a major way to share research.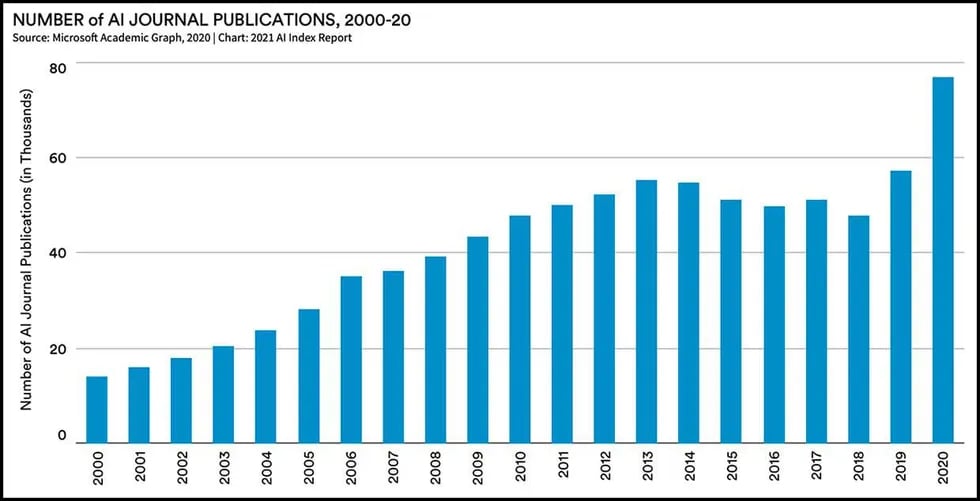 Artificial intelligence
Artificial intelligence has seen unprecedented growth since the millennia turned. Machine learning algorithms using immense datasets—especially deep learning—have improved AI outputs by leaps and bounds. The automated vacuum cleaner Roomba came out in 2002; Siri's voice recognition technology launched in 2008, followed by Alexa in 2014. Self-driving cars hit the road in 2018; GPT4, released just this year, is currently being applied in the popular LLM-based chatbot ChatGPT.
Many of these advancements are powered by generative adversarial networks, or GANs. GANs involve reinforcement learning fueled by large-scale data and computing resources. Using billions of parameters, GANs have been used to improve neural network language models and image-processing.
Another important development—and the key tech behind ChatGPT—is the large language model (or LLM), a relatively recent advancement in deep machine learning. LLMs use massive datasets to learn the connections between words and phrases, built on training algorithms. LLMs are essentially neural networks with a transformer architecture, which tracks relationships in sequential data, i.e. words, phrases, and sentences. Many of these developments are extremely new—transformer models were first described in a 2017 research study.
AI technology has enabled numerous new approaches to science. There are knowledge engines and research alert services that help scientists and researchers find the right studies or coverage. Automated analyses, automated experiments, and even study-writing or study generation-support powered by ChatGPT are all current approaches thanks to AI.
Other notable technologies
Blockchain, best represented by the cryptocurrency Bitcoin that launched in 2009, is a decentralized, shared, and immutable digital list of transactions. It has enabled decentralized storage, cryptographic security, tamper-evident records of data, data backup and recovery, and more.
Developments in genomics have also led to the explosive growth of the field of biotechnology. The completion of the Human Genome Project (which even indirectly made the rapid COVID-19 vaccine development possible), minimally invasive surgery techniques, CRISPR gene-editing technology, and much more has encouraged this exciting field.
Lastly, the rise of social media has revolutionized the way information is shared, acquired, and discussed. LinkedIn launched in 2002, MySpace in 2003, Facebook in 2004, Reddit in 2005, Twitter in 2006: platform after platform emerged, providing researchers and scientists new ways to connect, discuss, and even conduct research.