Four Graphs About This Year In COVID-19 Research

Eric Margolis
COVID-19 took the scientific world by storm in 2020. Scientists and labs in a variety of fields tossed aside their business as usual to focus on the outbreak. Scientific publishers committed to new standards for transparency and started to fast-track coronavirus-related research.
As a result, scientists have conducted tens of thousands of studies on the disease, and published tens and tens of thousands of preprints and peer-reviewed research articles. That's on top of hundreds of clinical trials, hundreds of vaccines in the works, and plenty of patents too—all within the first twelve months of a newly emergent disease.
The coronavirus has taken nearly 1.5 million lives. It's changed science for good, and the world. Here are four key graphs from NewsRx's BUTTER platform breaking down this year in coronavirus research.*
*All graphs are data from January to December 1, 2020.
COVID-19 dominates disease research in 2020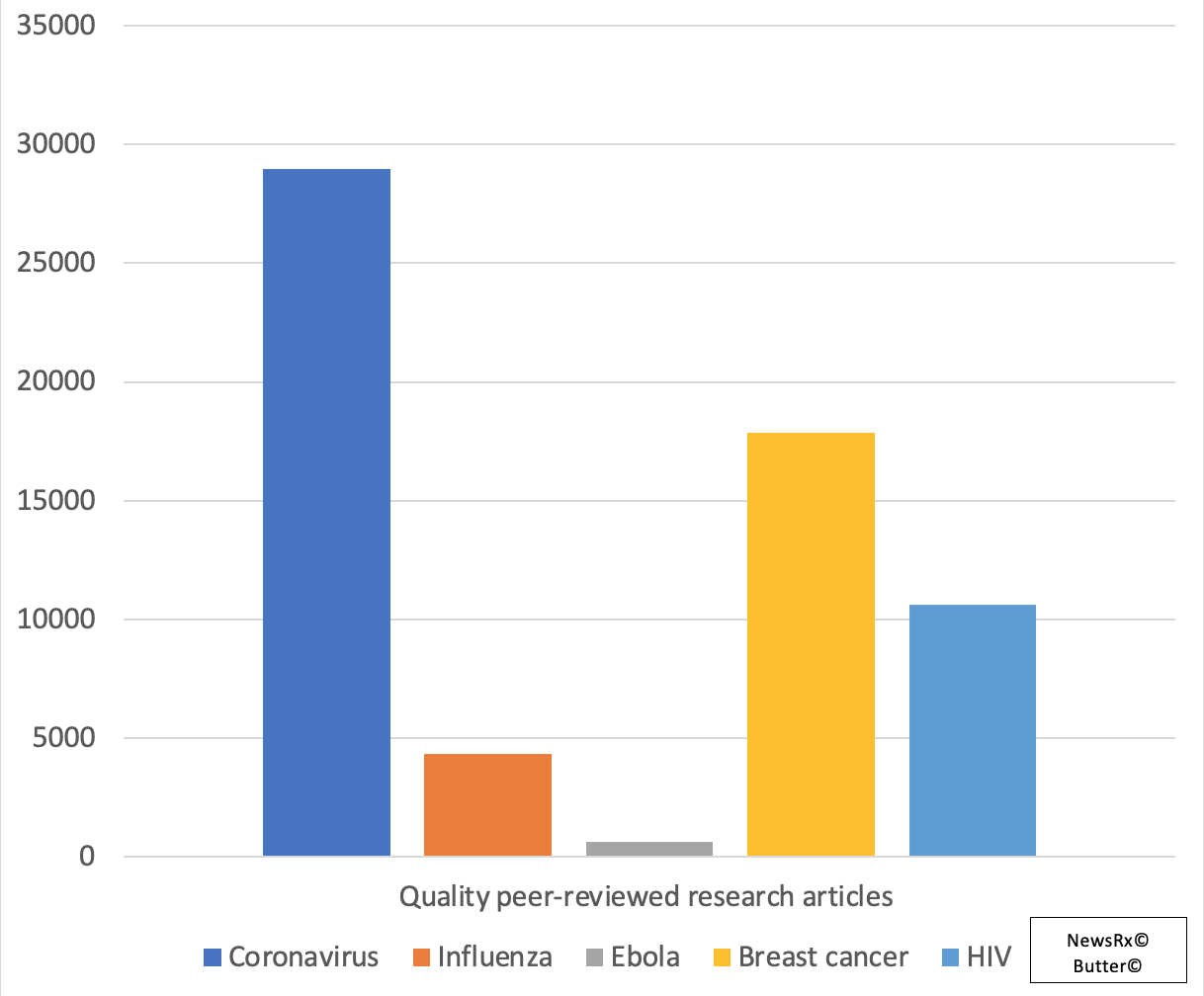 With around 20,000 high-quality peer-review studies getting published in 2020, COVID-19 research far outstripped the output on other diseases that remain major research focuses, including ebola, influenza, HIV, and even breast cancer.
Research on all major cancers together in 2020 still far exceeded the total studies published on coronavirus—research on breast cancer, colon cancer, lung cancer, and prostate cancer combined is enough to overtake the volume of research on coronavirus.
But still, the fact that research on COVID-19 was able to more than double the output on a well-established and prioritized field like HIV research reflects just how drastically labs around the globe pivoted to studying COVID-19 in a short ten months.
Research interest in COVID continues to grow each month

A new disease is a towering task for researchers to dissect. Speed of action was a major factor in Taiwan's success in limiting its outbreak—so lives depend on a rapid coronavirus response, and therefore, rapid science.
Fortunately, labs have figured out how to conduct many types of research remotely and publications have sped up the peer-review and publication processes. An April preprint analyzing response times for COVID-19 research papers in medical journals found that average turnaround had fallen from 117 to 60 days.
Nevertheless, it took several months for a body of COVID-19 research to accumulate. Rapid acceleration in research throughout the spring has shifted to steady growth in the fall. Peer reviewed research articles on COVID-19 continue to be published in droves. We certainly don't expect these numbers to fall drastically any time soon, as December is on track to match November's total.
Major COVID-19 research topics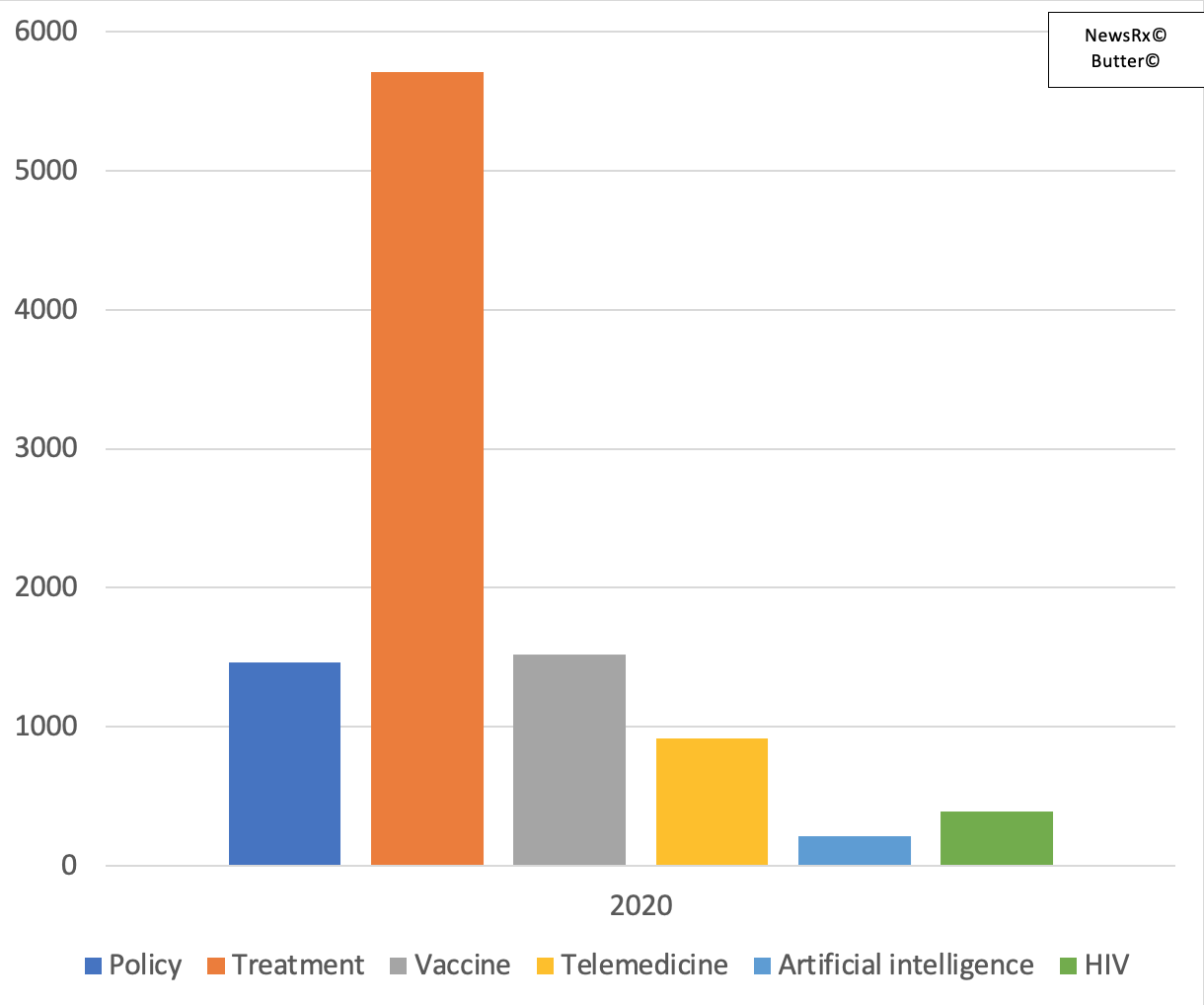 Within the world of COVID-19 research papers, what have scientists been focusing on? This graph shows a few of the most prominent topics covered in peer-reviewed research papers on coronavirus published this year.
COVID-19 treatment, understandably, has led the way, with various coronavirus treatment methods and therapeutics becoming by far the most frequent topic. Approaches to and analyses of government policy has also made up a sizeable chunk.
Some more interesting results include more than 900 research papers published on the use of telemedicine for COVID-19. In an era of remote work and government-mandated lockdowns, minimizing contact is key, and COVID-19 dovetails with an overall acceleration in interest in telemedicine over the last few years. The locus of COVID-19 and HIV also formed a hefty body of research, as many sought to find out HIV's impacts on COVID-19 infection and symptoms, as did the use of AI technology in coronavirus research and drug development.
COVID-19 cuts into growth of drug development research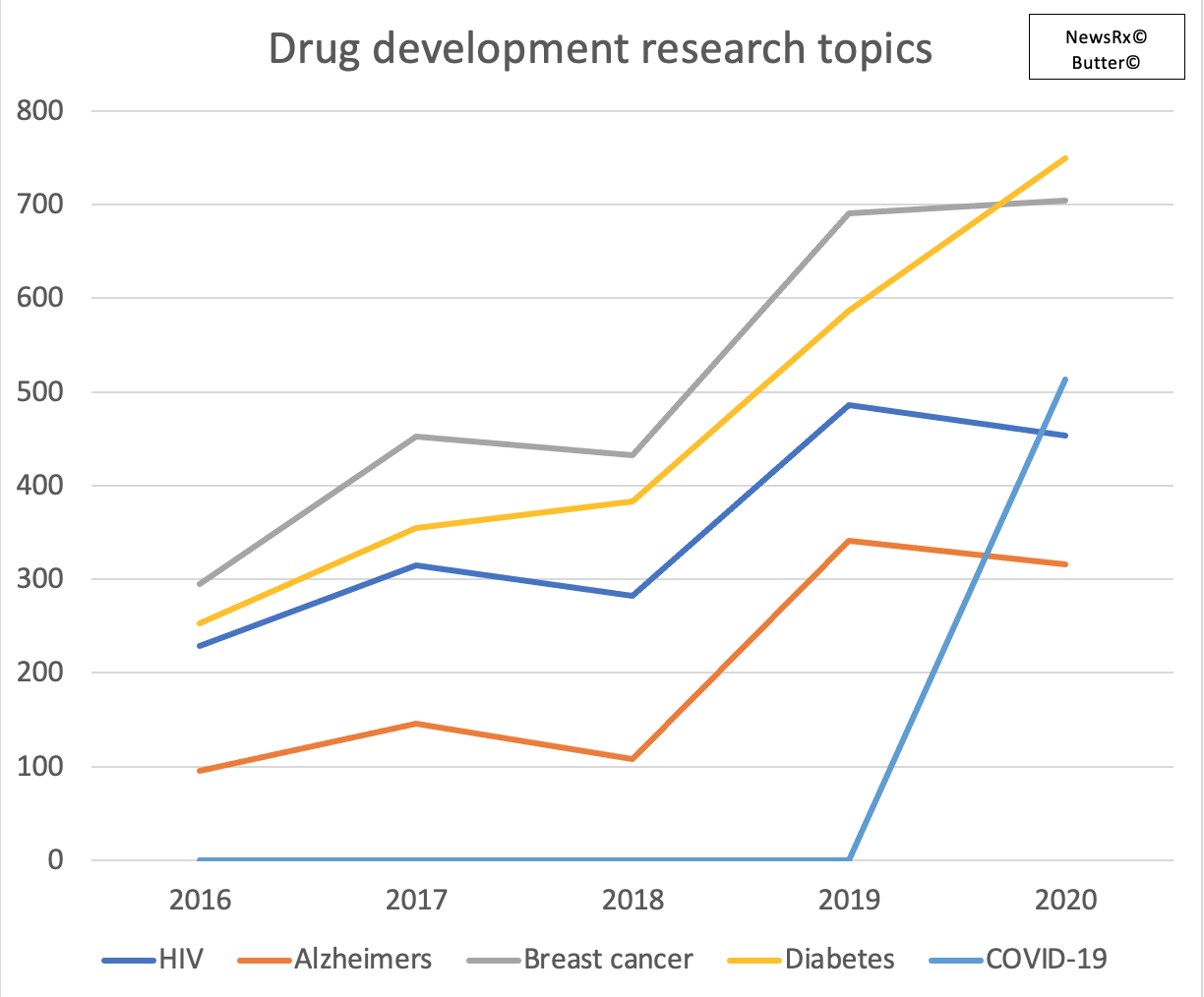 While worldwide discoveries are up over the last few years—and certain fields like artificial intelligence and the Internet of Things have especially surged—one particular area in which research has greatly grown is drug development.
Research papers covering the development of drugs for HIV, Alzheimer's, breast cancer, diabetes, and other notable diseases have constantly risen this decade, with breast cancer, diabetes, and Alzheimer's all doubling their research totals from just five years ago.
This year, however, the looming behemoth of COVID-19 has tapered the growth of research published on these diseases. It's unclear whether this trend is because more labs have shifted away from their main subject of study to focus on COVID-19, or if it's because publications are prioritizing the coronavirus over other diseases this year. Either way, it's clear that COVID-19 has shifted our attention away from other diseases for the time being (and perhaps for good reason).
That concludes four telling graphs about this year in COVID-19 research. Tune in soon for more of our BUTTER end-of-year research trends to learn about the present and future of scientific research.