The Top 5 NewsRx Tools

Eric Margolis
In a rapidly shifting scientific landscape, it's harder than ever for researchers to stay up-to-date on everything that happens in their fields.
Doing so is essential. Keeping up with the latest discoveries saves time and money and can lead to new and unexpected innovations—but with an estimated more than seven million research papers published every year, it's far from easy.
Digital and automated tools that help scientists conduct their research and sift through the noise are an important solution. But the sheer number of tools available can be just as overwhelming.
Our job at NewsRx is to create those very tools that help scientists do their research better. So here are our top five NewsRx tools for researchers and scientists, what they do, and how to use them.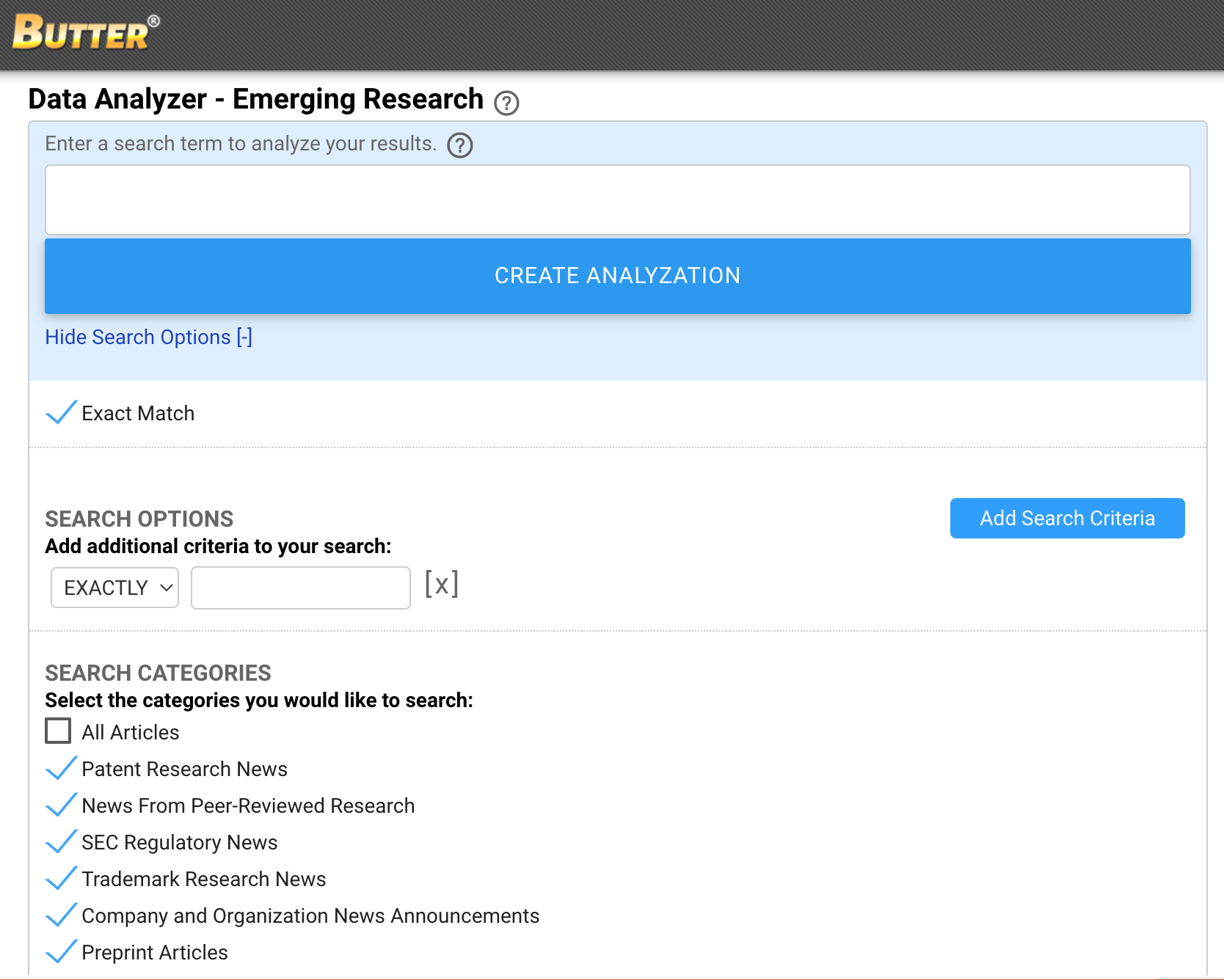 BUTTER is an online proactive research and discovery tool. By proactively selecting the most relevant and trustworthy information from top-tier sources, BUTTER combines facts with organization, analysis, and insight.
There are many different features available with a BUTTER subscription, but the most versatile tool is BUTTER's Analyze. Analyze helps scientists instantly sort through BUTTER's 25 million research briefs to find exactly what they're looking for.
You start by inputting a search term, time-frame, and article category. From there, sift through the results by targeting an institution, region, topic, keyword, and more. Analyze is a powerful way for researchers to find the exact knowledge they're looking for. It also allows you to set up proactive alerts to learn about new discoveries as they happen.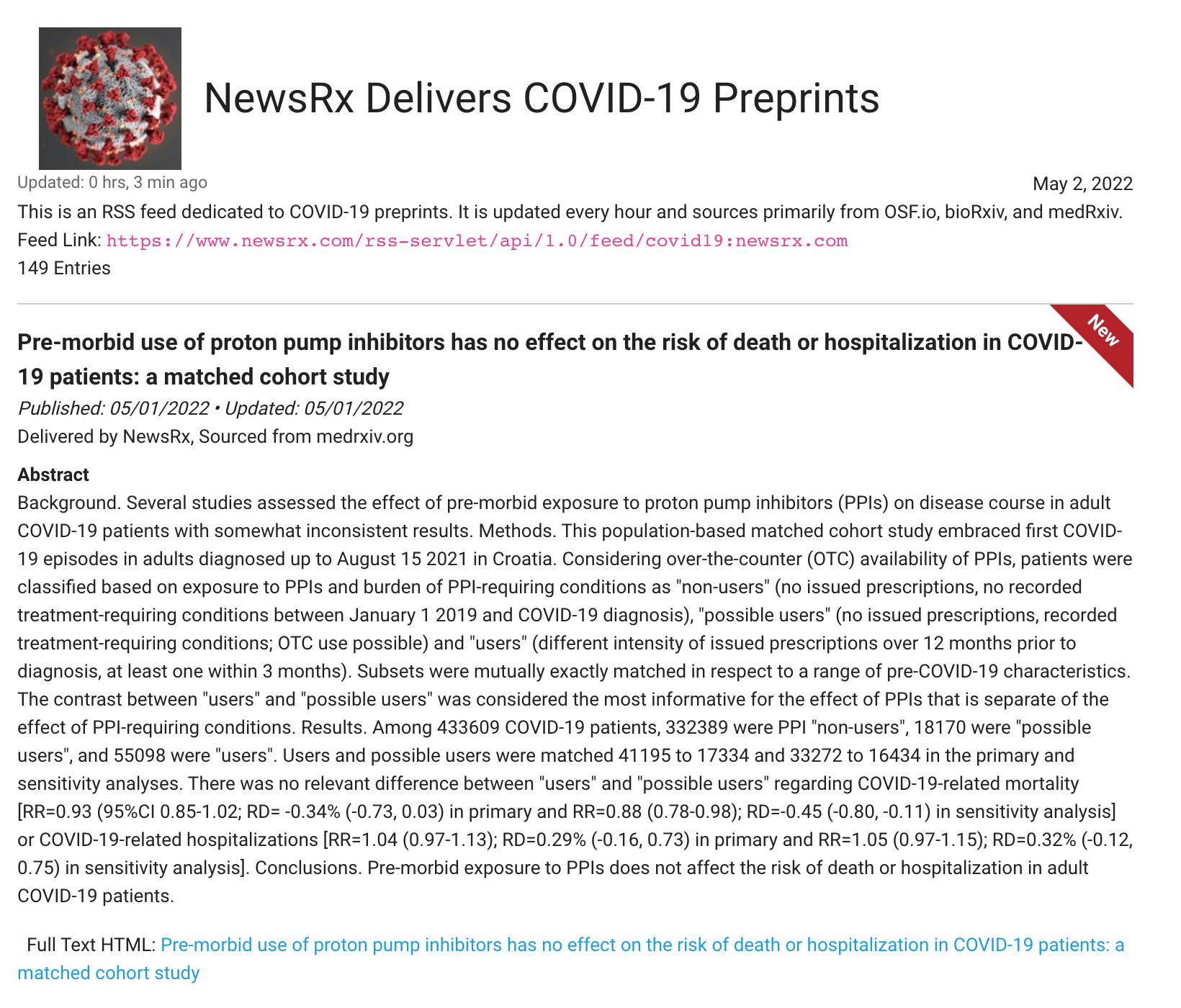 The COVID-19 pandemic has brought with it a full-fledged storm of coronavirus-related research and discoveries. A large portion of these have come in the form of preprints, which enable scientists to bypass the peer-review process to get urgent discoveries out into the open as quickly as possible. While preprint studies may not be as rigorous as research articles in a peer-reviewed journal, they have been immensely useful during the pandemic to accelerate life-saving research about a rapidly evolving virus.
So we created a free RSS feed that gathers all of the published COVID-19 related preprints in one place. Users can view the feed to read or skim the abstracts of the published articles, navigate to full studies, and even subscribe for email alerts on the topic. Most importantly, this tool is 100% free, dedicated to sharing information and discoveries during a treacherous pandemic.
The newsletter is the oldest NewsRx product, but today's are a world of technology apart from how our newsletters started out in 1985. At first, NewsRx offered a weekly newsletter to inform about the rapid spread of HIV/AIDS. Today, NewsRx's weekly and daily newsletters cover the most important research in hundreds of scientific fields, providing knowledge discovery and business insight in real time.
NewsRx's AI technology, curated by human experts, publishes news and research based on reporting from authoritative sources. Topics include fields ranging from health & medicine to technology to finance and law. By signing up for a weekly newsletter, you'll receive the top research briefs from your field in your inbox, every week. Meanwhile, dailies share these research briefs every day. With over 100 topics, our newsletters cover specialties and sub-specialties in medicine, life science, math and engineering, social sciences, and the humanities.
NewsRx's newsletters are the perfect solution for the researcher in search of a simple, digestible way to keep up with the latest discoveries in their field.
NewsRx's Clinical Trials is a separate tool within BUTTER that specifically enables users to search, refine, analyze, and track ongoing and completed clinical trials from around the world. NewsRx is able to keep up with the thousands of clinical trials, constantly evolving in real time with AI technology.
In BUTTER's Clinical Trials tool, you can view recent trials, explore the advanced search tool to try to seek out specific trials related to their discipline, sort and customize results with a variety of conditions or those in different phases, and set up alerts on various topics, keywords, and trials at your desired frequency.
This tool is recommended for medical scientists and drug developers who want to conduct research into past clinical trials, or receive alerts when new developments happen with drug development in their specific discipline.
NewsRx has decades of experience with research, building and maintaining taxonomies, and collecting, managing, and analyzing data. That includes the nearly 25 million research briefs included in our BUTTER database. By applying our proprietary algorithms to the specific needs of any company or institution, NewsRx can process and analyze data to discover knowledge and insight.
NewsRx's proprietary software combines decades of journalistic and writing expertise with artificial intelligence, machine learning, and natural language generation to take these data and research-related tasks and automate them. With a custom-built solution, we'll teach our software about your company's process to uncover brand new analyses and discoveries from your data. In short, NewsRx can apply the data management and AI know-how behind BUTTER and the other top five tools to your specific needs.
Be sure to check out the full list of NewsRx tools on our website, and feel free to reach out about any of them to learn more.