Four Essential Trends in Pandemic Research

Eric Margolis
Last year, the scientific focus of the world was, once again, squarely on the COVID-19 pandemic. In 2021 COVID-19 research, vaccine research flourished, biotechnology became a key research area, pandemic-related preprints reached a peak and began to slow down, and coronavirus dominated most other disease categories in sheer research volume.
But of course, COVID-19 was hardly the lone area that scientists were hard at work investigating. In 2020, we saw technology research continue to flourish during the early stages of the pandemic. Artificial intelligence, cybersecurity, and blockchain research and patents all soared.
After examining major developments in coronavirus research exclusively, here are some broader research trends in other important categories for 2021, including mental health, blockchain, and more.
Key pandemic research areas: mental health, work from home, social media
These three topics have emerged during the pandemic and generated an immense amount of discussion and scrutiny. Accordingly, scientific research on all three has increased steadily throughout the pandemic.
Mental health research had already been sharply on the rise pre-pandemic. Total 2019 peer-reviewed research article volume was nearly double that of 2017. Then, mental health research further spiked in 2020, keeping steady growth into 2021. The top research topics for mental health during the past year included treatment, depression, and anxiety, followed by stress and COVID-19.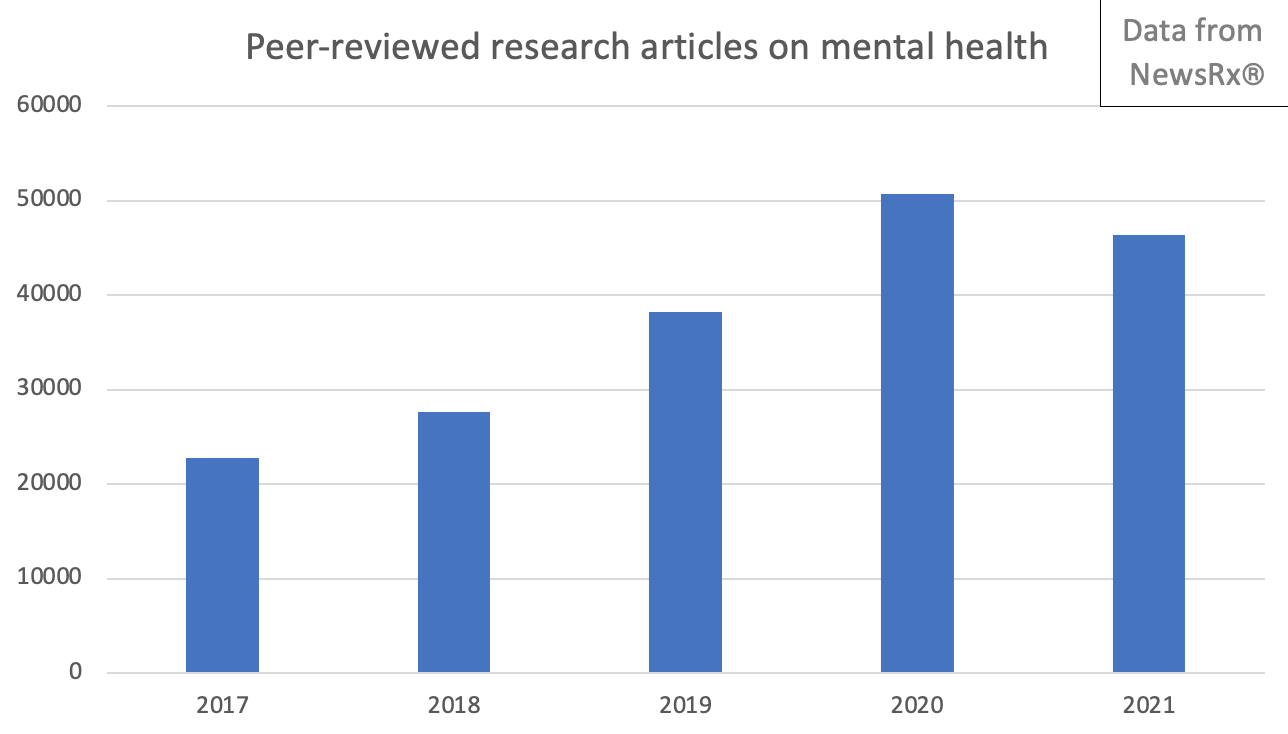 Unlike mental health, which was a major subject of research prior to the pandemic, work-from-home shot up out of nowhere. In 2019, there were just four peer-reviewed research articles on work-from-home (WFH). By 2021, there were 197. Of course, 197 total articles means that WFH is hardly a major research area. But with WFH poised to remain common moving forward, research on the economic, psychological, and sociological effects will become essential in the years to come.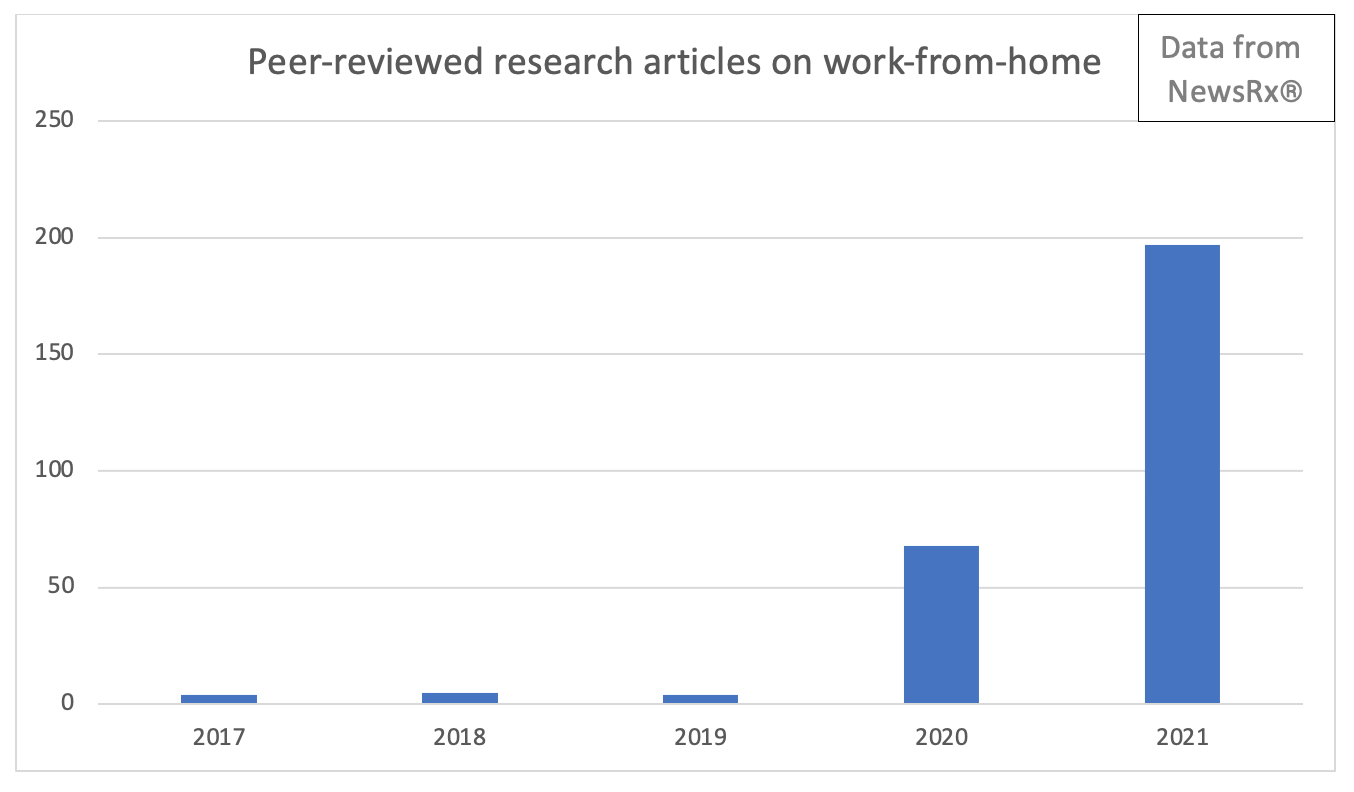 Almost three quarters of these studies discussed the relationship of WFH and COVID-19. That leaves a lot of room for growth in the non-COVID-19 area of this subject. Some examples of non-COVID-19 WFH research last year included studies on disabled people working from home, sensor systems for work environment measure for WFH purposes, and generational differences in WFH habits and attitudes.
The pandemic also accelerated the way social media has become a part of the fabric of modern life. Accordingly, the field saw big gains as an area of study. In 2019, just over 3,000 peer-reviewed articles discussed social media, a number which has more than doubled to almost 7,000 this year.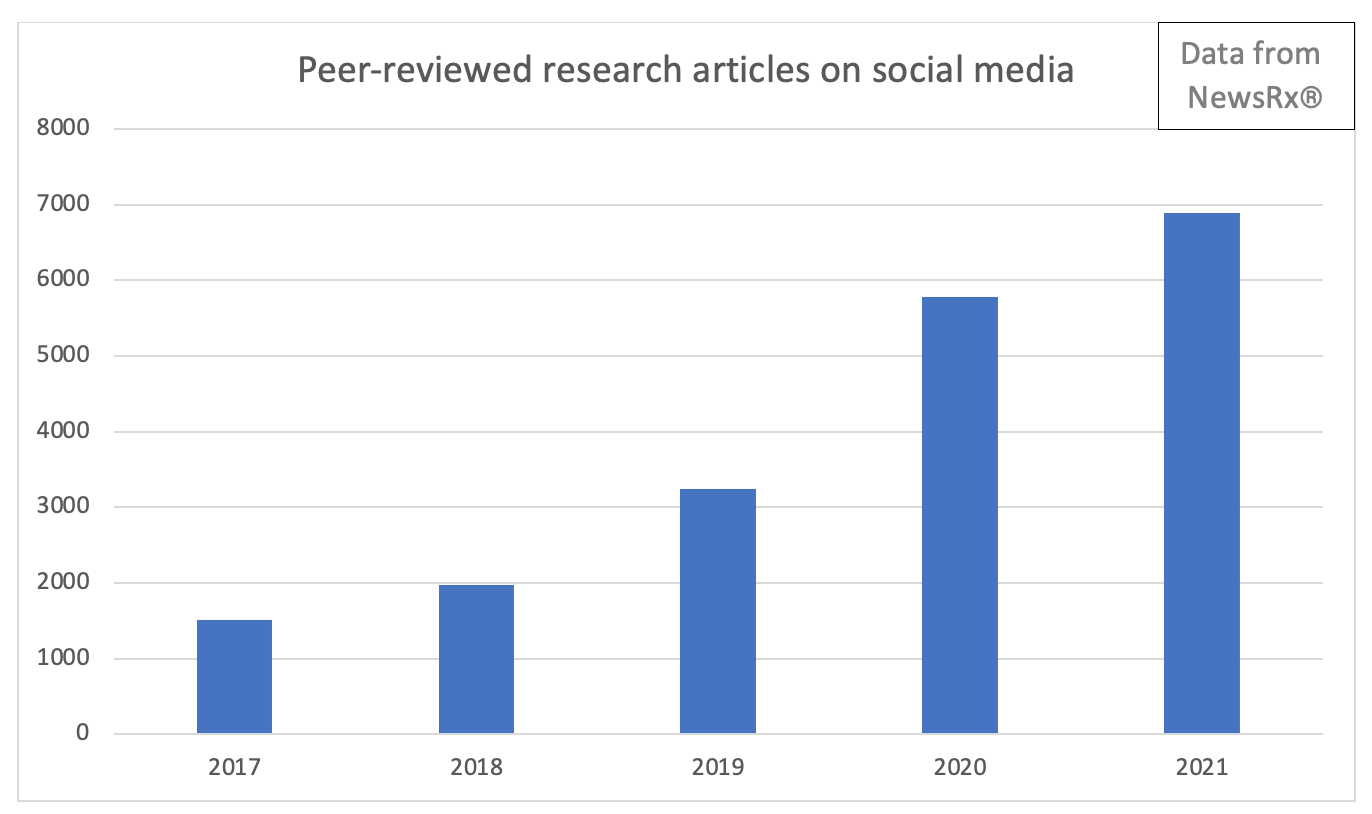 COVID-19 again served as a major sub-topic, with 1,429 articles discussing the intersection of COVID-19 and social media. In terms of research on individual platforms, surprisingly few studies covered the social media giant TikTok, which recently saw the highest web traffic volume ever: just 41 studies. That's compared to 748 covering Facebook and 1,029 on Twitter. We can expect this to be an early-stage anomaly, and research on TikTok could rise in the coming years.
Technology trends
The rise of cryptocurrency in finance cannot be understated. Scientists have been relatively quick on the uptake, with nearly 900 peer-reviewed research studies on cryptocurrency coming out in 2021, compared to less than 100 in 2018.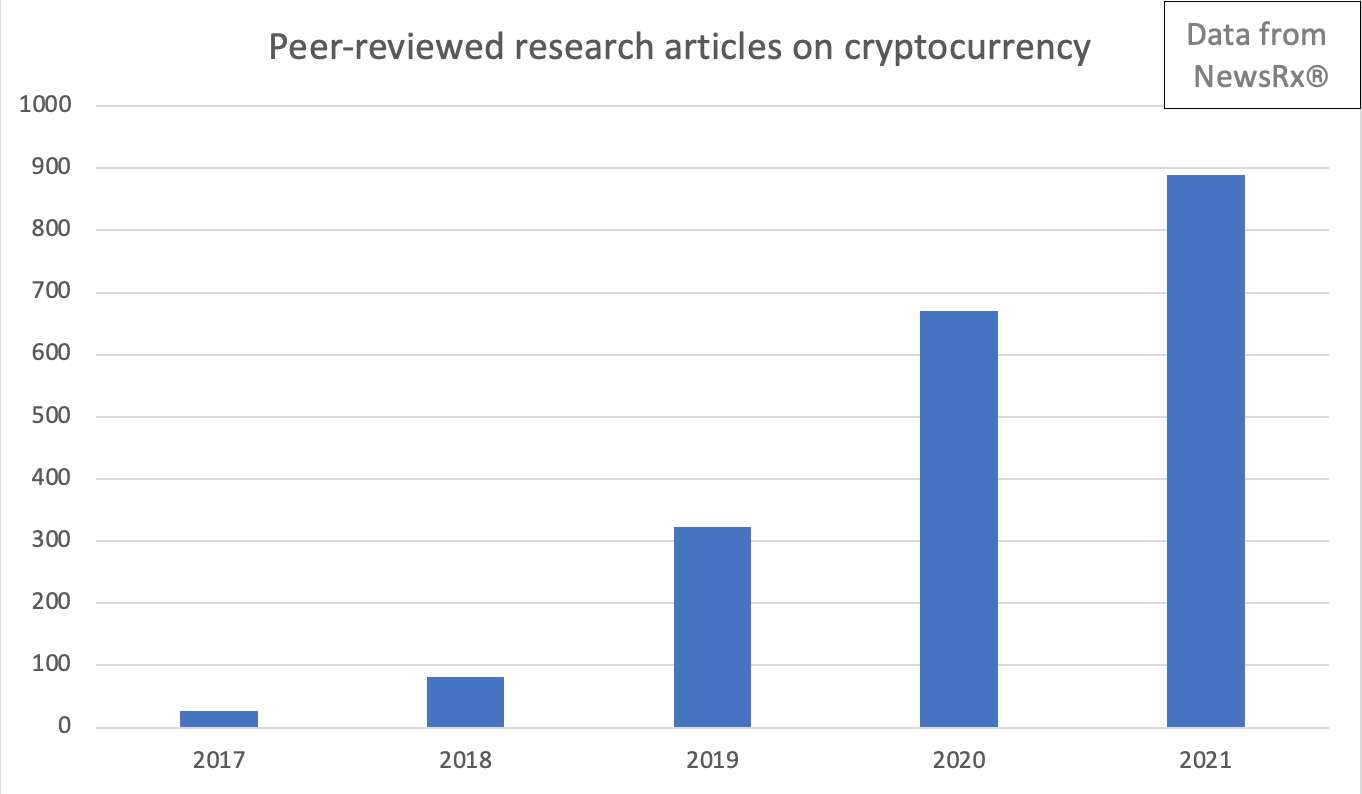 The single-biggest news topic about cryptocurrency in 2021 was the rise of NFTs. NFTs, or non-fungible tokens, are unique, non-interchangeable units of data stored on the blockchain, and have become a popular and much-debated investing item. But there were only two peer-reviewed studies released in 2021 that even discussed NFTs: one study from the City University of London mapped market trends and visual features of NFTs, and another from the University of Seville discussed the possibility of binding smart IoT devices to NFT tokens. Many of the peer-reviewed research articles on cryptocurrency discussed bitcoin and Ethereum: 167 and 69 articles respectively.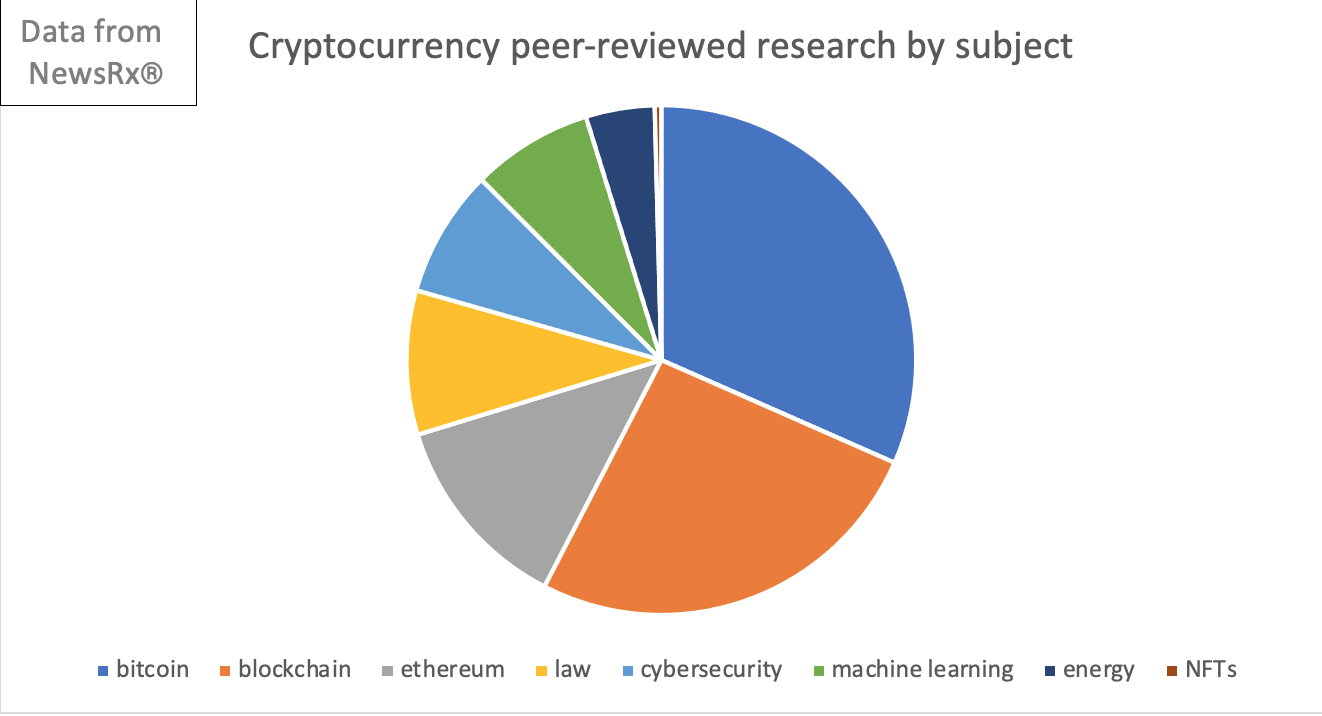 In artificial intelligence research, machine learning continues to be the dominant research area. Robotics has kept pace as the second major research area, with neural networks falling surprisingly far behind. IoT (Internet of Things) has also emerged as a substantial sub-topic, rising from just 36 total research articles in 2017 to 566 this past year.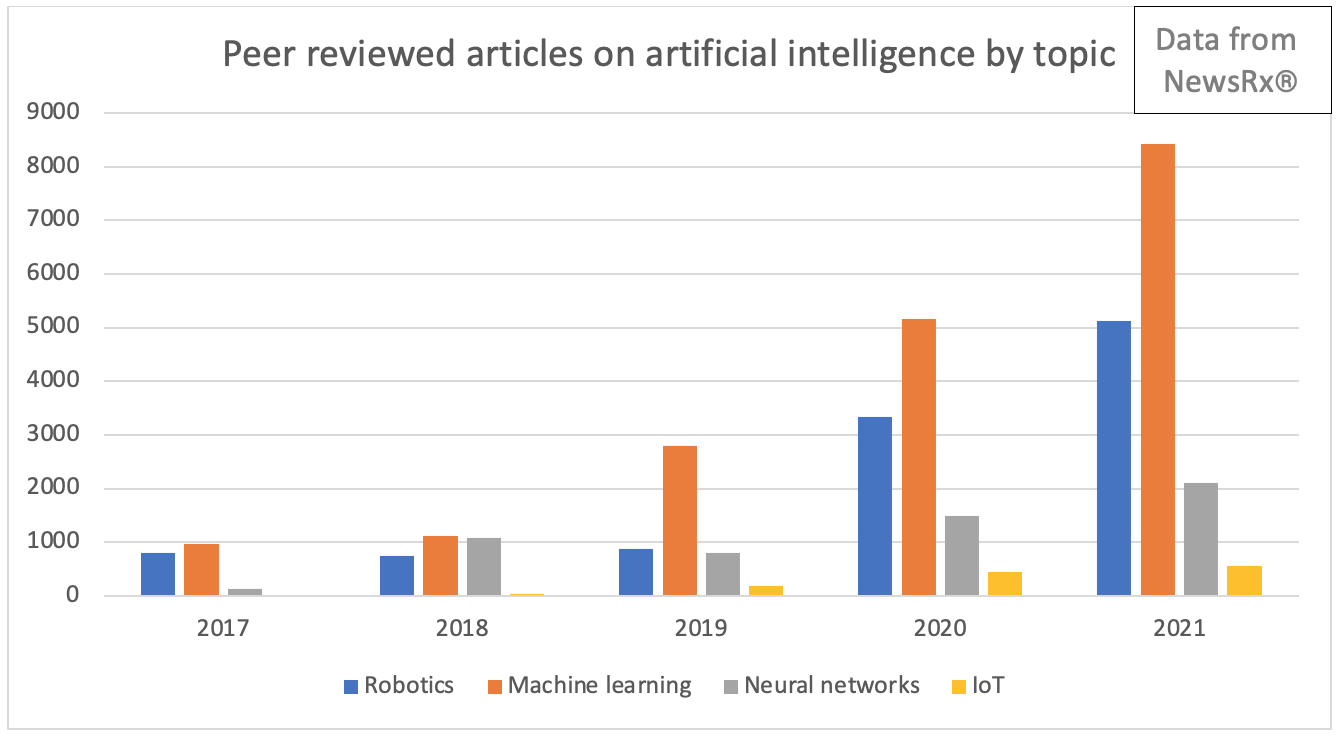 Scientists look inward with studies on preprints and open access
As we're chiefly concerned with researchers and scientists and how to help them thrive, we keep a close eye on science and research industry trends. That includes introspective peer-reviewed research. Two trends we've had our eye on in the industry include the rise of open access research and the emergence of preprints.
In the early stages of the pandemic, it felt like the volume of discussion on preprints exploded. Scientific studies follow this general trend, sky-rocketing in 2020 and then increased further in 2021. Research covered such areas as preprint publishing correlation with career outcomes and preprint platforms in different regions.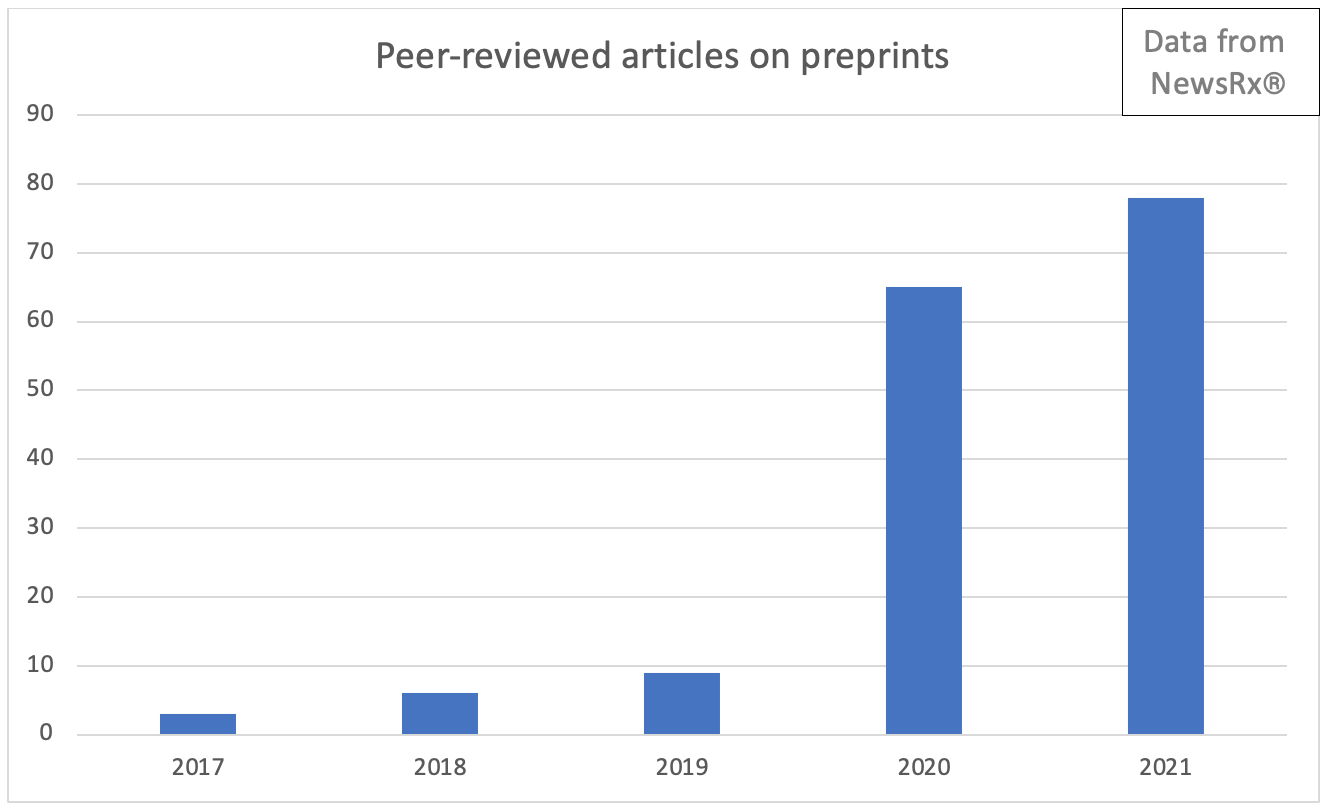 Open access has remained a much bigger subject of attention, and the volume of research has increased substantially in recent years. This research spans an incredibly wide range of topics, from analyzing open access statistical and graphical programs, to the cost-effectiveness of open access models across countries, and much more.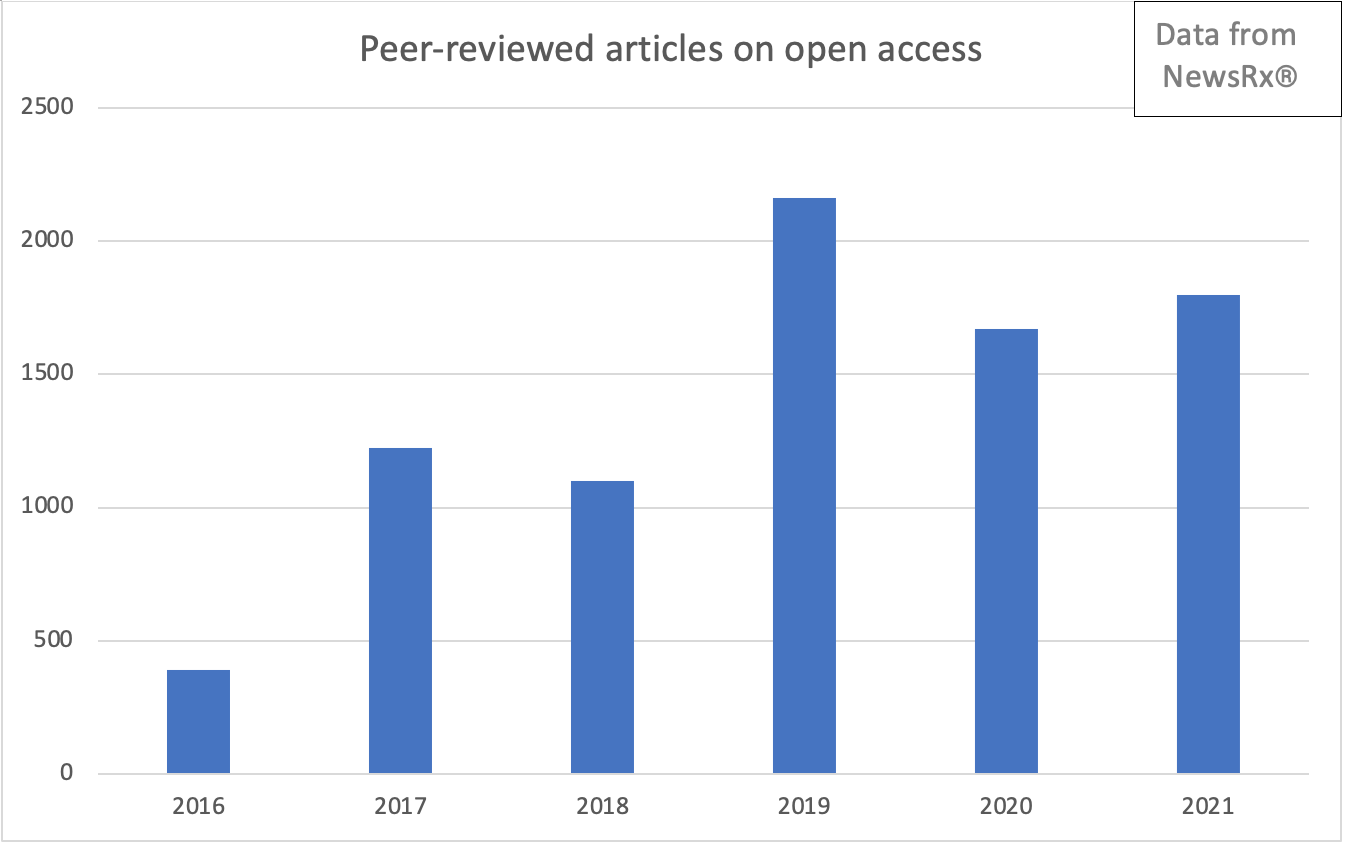 That covers trends in some of the most interesting and essential 2021 research areas. Stick around for more data-driven reporting on the state of scientific research and publishing!