BUTTER Tips and Tricks Part 4: Newsletters

Eric Margolis
Last time on BUTTER tips and tricks, we explored how to make the most of the Dashboard function. Today, we'll be examining NewsRx's Newsletters, and how to make the most of BUTTER and your newsletter subscription.
Depending on your subscription, there are various features of BUTTER and NewsRx's Newsletters that you can access. In this handy guide, we'll explore those main features and how to use them to your advantage—instant knowledge, faster research, and better results!
Newsletters: Weeklies vs. Dailies
NewsRx has two types of newsletters: weeklies and dailies. Before we explore which one is best for you, here's a quick rundown of how it works.
NewsRx's weeklies and dailies are the easiest way to stay up-to-date with the latest research and ongoing discoveries in your areas of interest. They are comprehensive, interactive datasets that provide knowledge discovery and business insight, allowing you to make informed and competitive decisions without missing a beat. These newsletters utilize proprietary AI technology to report from authoritative sources, covering virtually all topics—health and life sciences, business, tech, law, and finance—nearly 200 in total.
NewsRx's algorithms write concise research news briefs on the much longer original source. Take a peer-reviewed research article on self-driving car technology that is originally 10,000 words long. NewsRx writes short brief covering the most essential knowledge about the study, including information about the study's summary and results, funders, authors, institutions, and a URL linking to the full article. Each research news brief rigorously covers crucial content from the quality-checked source in an average of just 400 to 600 words. These reports are the ones that go into each newsweekly or daily.
There are two differences between weeklies and dailies to consider. The first is the obvious: the frequency. Dailies are delivered to your email inbox as a web link or PDF every business day, Monday through Friday, typically containing somewhere between 30 and 150 articles. Weeklies are delivered once a week in the same format, but can contain many more articles—anywhere between 100 to over 1,000.
The second difference are the fields of specialty. While many topics are the same, some differ slightly. For example, while there is a Daily Asia Business and a Japan Daily Report, there is only an Asia Business Weekly newsletter. Request more information to see the full options for newsletter topics.
Newsletter Browser
If you're a newsletter subscriber, you'll have access to BUTTER, a powerful discovery tool that takes care of the most labor intensive tasks of research. When navigating BUTTER, you'll see the "Newsletters" tab on the top bar of the website. From there, you can click on your newsletter to enter the Newsletter browser.
The Newsletter browser is an essential tool to make the most of your newsletter subscription. It enables you to target the best articles in the newsletter and create custom reports. Here's how it works.
As an example, here is a Biotech Week newsletter from last month.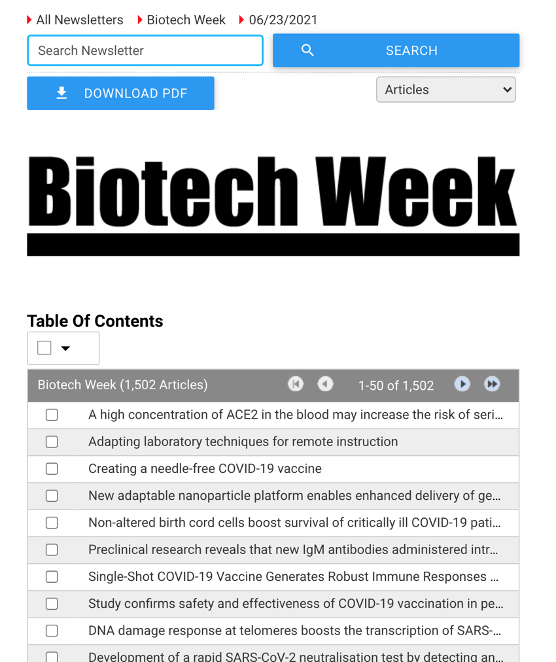 As you can see, it has a massive number (1,500+!) of articles. Fortunately, all of NewsRx's weekly newsletters come with powerful search capabilities to narrow down the results you need from each newsletter.
By clicking on the drop-down gray 'Articles' box, you can navigate to Article Type, Subhead, Institution, and Keyword—each of which divides the newsletter into navigable categories. For example, there were 19 articles on biotech NIH clinical trials, which you can quickly navigate to by clicking on the the 'Article Type' category.
Or you can navigate to the 99 articles on biotech tissue engineering or the 69 articles on biotech oil and gas research by clicking on the 'Keywords' category.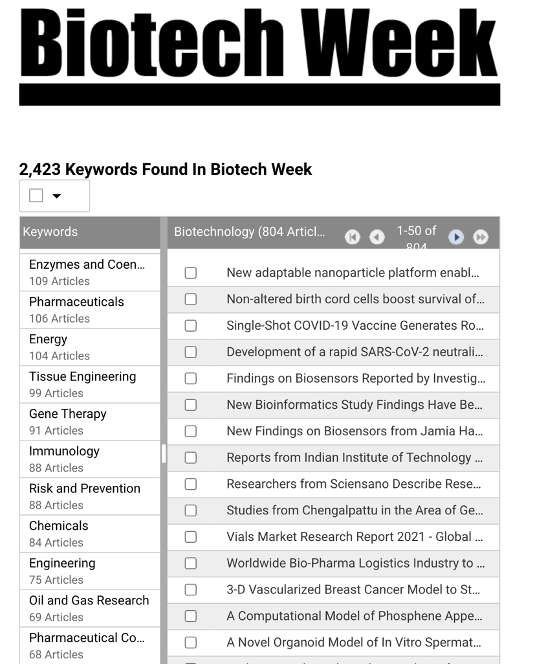 You can also type in your own keywords into the search box to find the biotech research that matters to you. For example, we searched for 'artificial intelligence' to identify 8 potential articles worth reading.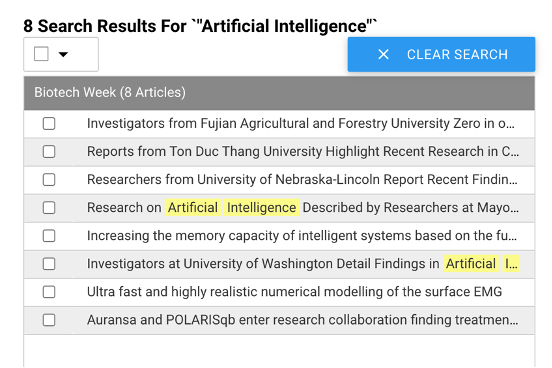 Now with our greatly shortened list, we can check the boxes, and click on "more" and then "Export Selection" to easily create a PDF with the newsletter articles on all the latest biotech AI news.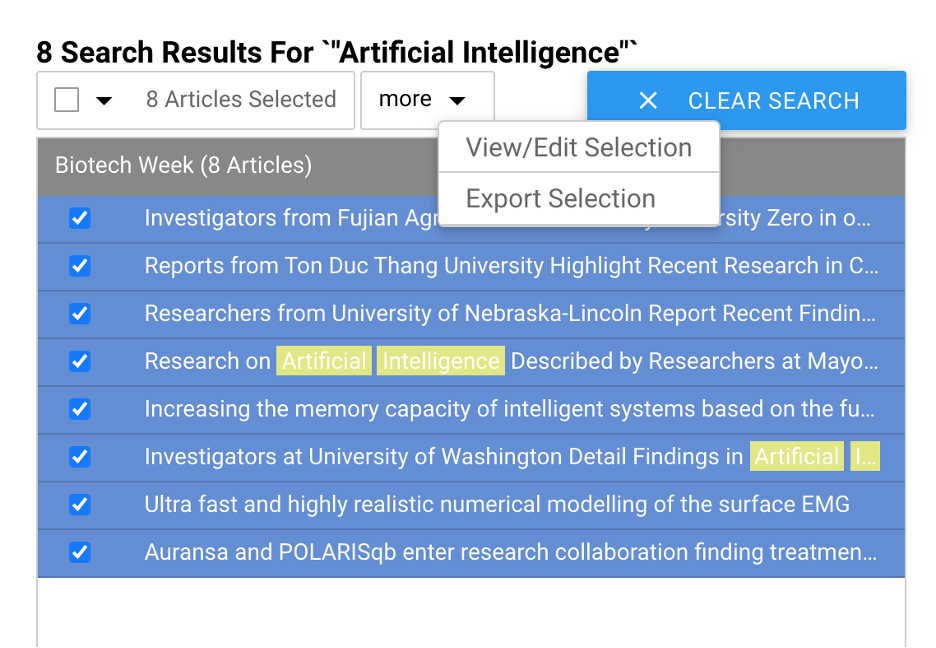 Dailies Browser
The Dailies Browser is more streamlined and simplified than the Newsletter Browser page. For Daily subscribers, you can simply view all of the daily articles in your subscription category on a simple webpage, with the option to view individual articles in the browser, or download as a shareable PDF.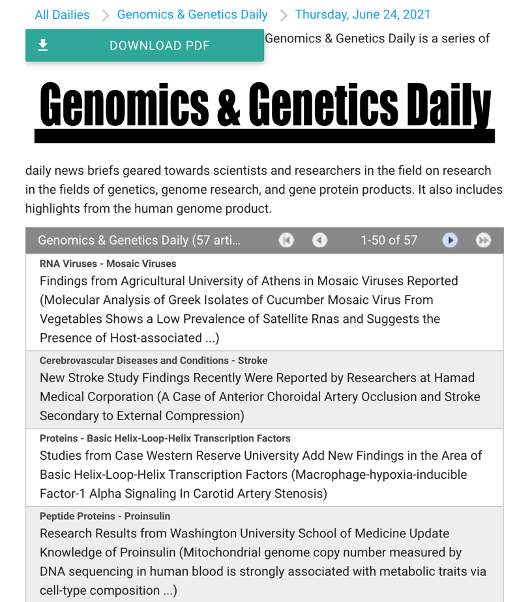 Don't forget the dashboard
One of BUTTER's most useful features is its dashboard—and newsletter subscribers get to especially benefit from BUTTER's powerful dashboard.
One particularly useful widget for newsletter subscribers is the 'Top Stories' widget. This widget can display the top stories from your newsletter on your Butter home page, including breaking down where articles are being published around the world, and trending topics within that newsletter.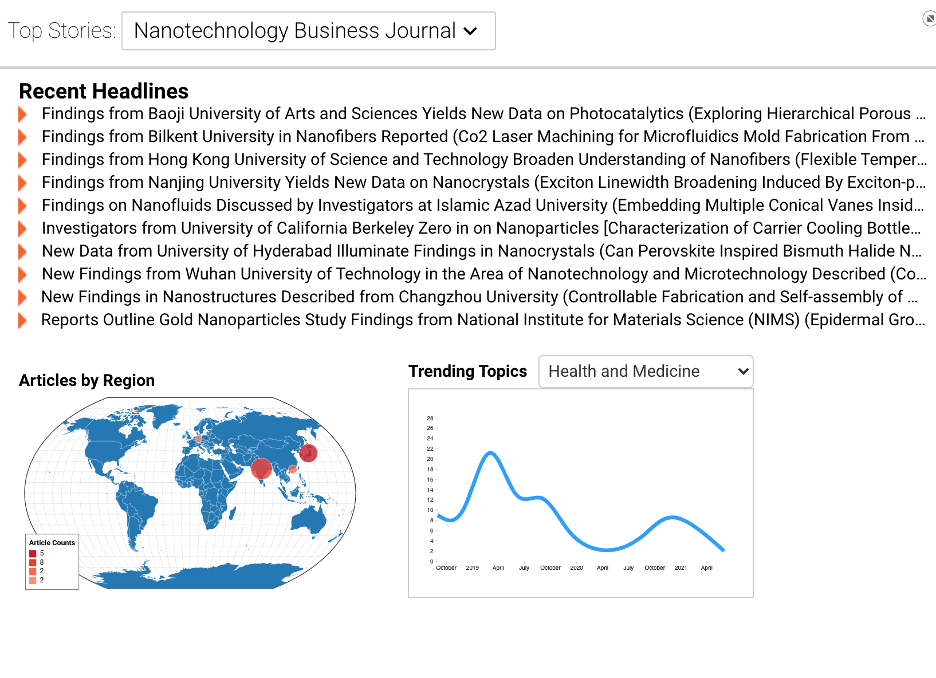 This widget allows you to navigate directly to top stories in your newsletter from the BUTTER home page without using the Newsletter Browser.
Note that this dashboard widget will appear alongside others on your BUTTER home page. So if you're curious about how to rearrange and customize your dashboard so that the 'Top Stories' widget stands out, be sure to read our recent Butter Tips & Tricks article on your BUTTER dashboard.
Thanks for reading, and make NewsRx's newsletters an integral part of your research today!