BUTTER Tips and Tricks Edition 2

Eric Margolis
Did you know BUTTER has a powerful tool for tracking and analyzing clinical trials? Here are four quick steps you can take to make the most of the clinical trials tool and get the most precise, up-to-date clinical information.
Tip #1: Use the advanced search tool to hone in.
Once you're in the clinical tool, are you finding that one keyword isn't getting the job done? Just click on the little "Advanced Search Builder" beneath the Search button.
The Advanced Search Builder looks complicated, but it's easy to use. For example, look at the sample advanced search below for completed cancer clinical trials, not not including heart, lung, and brain cancer.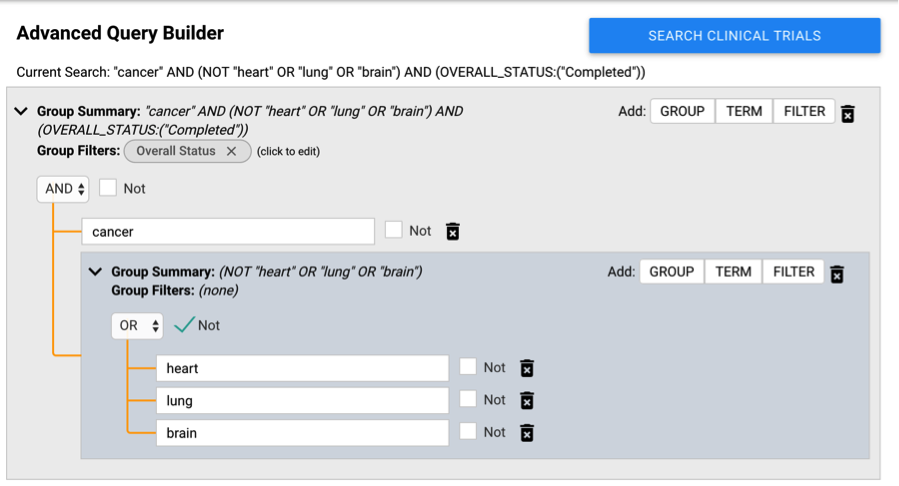 You can continue to hone in with new terms and customized filters to quickly build a powerful search query. The "Filter" box toggles more than a dozen different filters including ones for phase, study type, contact organization, and facility name.
Tip #2: Refine even further with the sidebar.
Not sure what filters you need until you start searching with a simple keyboard? That works too. Use the regular keyword search or advanced search tool to see what your initial results are. You can always dig deeper from there using the filters sidebar on the left side of the screen.
By viewing your search results before adding additional filters, you can add one filter at a time and see your results slowly narrow down. Simply click on the filter that interests you to see the drop-down choices and go from there.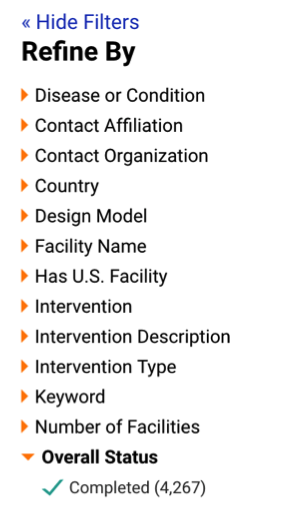 Tip #3: Customize the data you see.
When the results on your clinical trial search pop up, they start with information such as the trial status, study title, conditions, interventions, and study type. But what if you want to see when the study began or where it was conducted?
No problem. Click on "Show/Hide Columns" to broaden the categories out or narrow them down with data like outcome, sponsors, first posted, start of study, and much more.
The Show/Hide Columns tool comes especially in handy for exporting your results to a PDF. Go to Actions à Export Current Table to get a PDF record of your search with the customized data columns.
Tip #4: Create alerts to track trials that matter to you.
One of BUTTER's most powerful features is the ability to send and receive unlimited email alerts on different topics, keyword searches, publications, and trials at your desired frequency. After you use BUTTER's advanced search or filters to find the trials that matter to you, you will be able to receive a notification whenever there is a new development for that specific trial.
Just check the trials you need, click on Actions and then select "Create Clinical Trial Alert." From there you can select your frequency. You'll never miss a beat again.
We hope that these BUTTER Tips & Tricks help you unlock the full potential of BUTTER. Happy researching!
September bonus trick:
Once you conduct an "Analyze" search, it will be automatically saved so you can return to the same search anytime you want. Just navigate to the "Analyze" tab and scroll down to view your "Saved Analyzations."